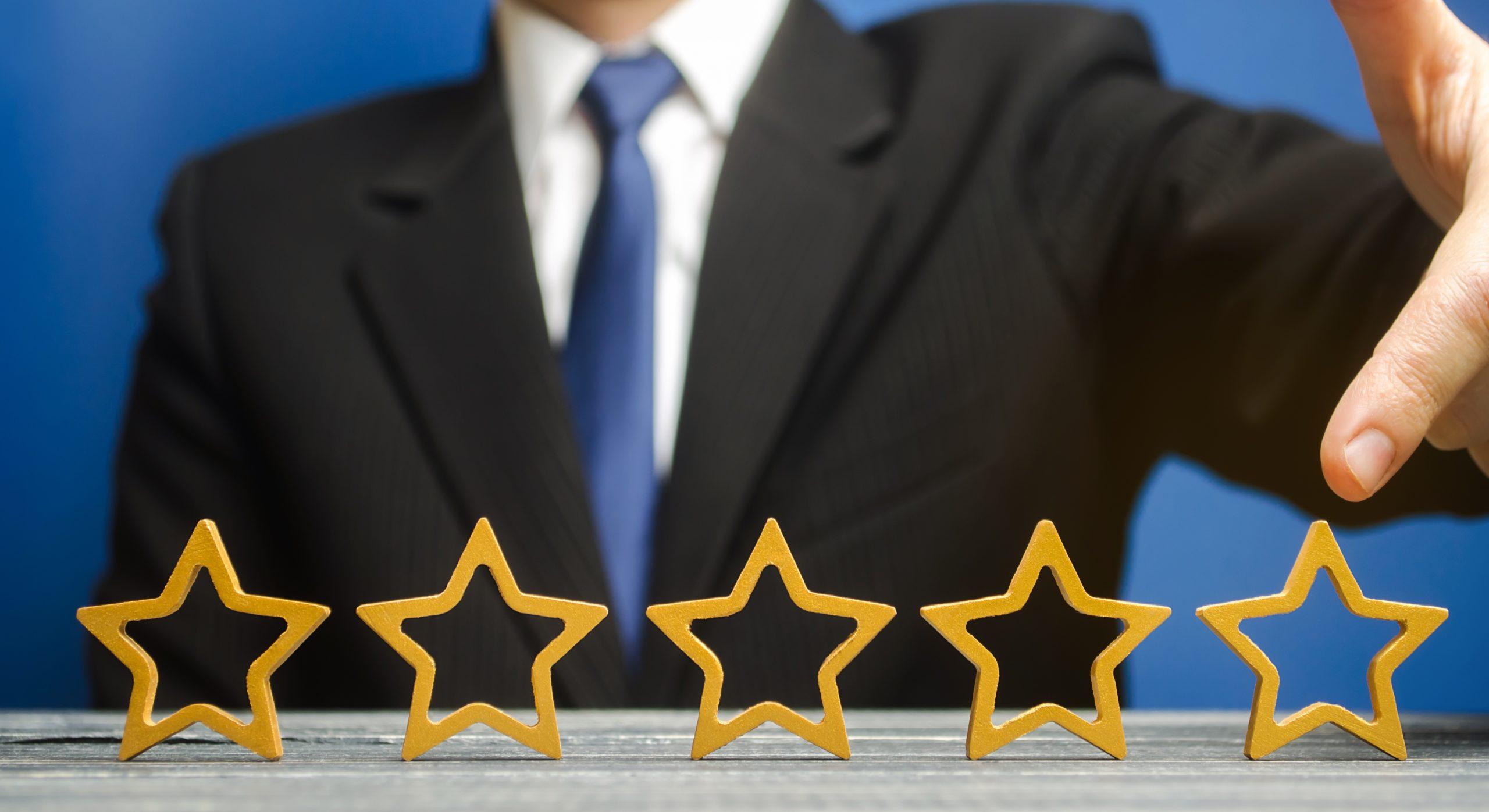 February 4, 2021
9 ways to improve your company's reputation
Last modified: 04/02/2021
Reading time : 6 min
Have you ever wondered how some companies became so popular without much effort? How do things go viral and start to evolve? All great brands have one thing in common: they have invested a lot of time and resources to make their brand recognizable and trustworthy. In other words, they have made it a priority to improve their brand awareness.
People tend to share and like posts from brands they know, mainly because they trust and are familiar with those companies. Brand awareness simply means that consumers can easily recognize your name without you having to resort to hard selling or excessive advertising. This can set your company apart from its competitors, as shoppers typically rely on the opinions of others before making a purchase.
Thus, once you have 've build your reputation and gain your customers' trust and loyalty, you don't have to work too hard to convince them to support your business.
With inbound marketing approaches, you can draw your target market's attention to your brand without reaching them directly. This type of marketing strategy involves the use of blogs, search engine optimization (SEO), events, social media, newsletters, content, and more.
Inbound marketing differs from outbound marketing in that it allows customers to find the brand, not the other way around. The latter focuses on reaching people through direct calls, emails and messages. Other examples of outbound marketing are telemarketing, advertisements, billboards and pop-ups.
Basically, the inbound marketing strategy attracts customers through interesting content. According to Small Business Trends, inbound marketing generates 72 % more leads than outbound marketing.
Here are some ways to build brand awareness through inbound marketing.
1. Publish interactive content
Inbound marketing is all about getting your target audience to notice you, and one way to do that is by publishing interactive content. These are highly shareable and can help you improve your conversion rates. In addition to better engagement, you'll also encourage your readers to share your content, making it accessible and more visible to others.
There are a few ideas you can try to use:
Videos. Wyzowl reports that more than 85 % of marketers use videos for their marketing strategies. Interactive videos are also on the rise as business owners look to use this type of content in 2021.
Surveys. Surveys and polls have been used by many businesses for a long time. This type of interactive content is often found in social media, email and websites, where marketers can easily set it up.
Evaluations. An evaluation is a process in which the user is asked multiple questions in exchange for valuable insight and information. It is a type of interactive content that allows creators to engage their audience and gather information from them.
Competition. Contests are one of the most popular forms of interactive content. People love to win prizes, especially if it's something they can use. Hosting contests on social media can help you improve your audience, your brand awareness and even attract potential customers.
2. work on computer graphics and images
People love to see images and infographics and they tend to interact with this type of content much more. Since most people use their cell phones or tablets to read articles and blogs, turning important information into infographics will make it easier for them to view the content on their device.
3. distribute samples and branded gifts
Everyone loves free stuff, and giving away free samples and trials of your products and/or services will help them better recognize your brand. You'll want to connect them through inbound marketing, and the easiest way to do that is to let them try what you have to offer.
Always make sure to include the word "free" on your posts about samples, demos and free trials. Emphasize the text in your images so that people can easily see it even when they scroll down.
However, you should distribute things that will be useful to your consumers. Put yourself in their shoes and think about what they would like to receive and/or use. This way, not only will they be aware of your brand, but they will also consider purchasing products and services from you or buying a membership.
You can also create branded gifts and give them to your loyal customers. They could be the best ambassadors of your brand.
4. Understanding your personality
If you haven't already defined who your customers are, now is the time to do so. It's important to understand who your target market is before working on your marketing strategy and building brand awareness. Creating user profiles will help you better define your business plan and understand the challenges your customers often face.
It will also save you time and money by advertising to people who are not interested in your brand.
Here are some quick tips on how to create a user persona for your brand based on a customer questionnaire:
Create a survey and ask only three things. This will help you begin to familiarize yourself with your target market:

How would you describe yourself?
What are your goals for using our products or services?
What is stopping you from supporting our company?

Interview your past and current customers. You can do this by sending them an email or asking them to fill out feedback forms.
Analyze the data you have in hand to better understand your customers. Aggregate them accordingly.
Keep in mind to stick to a few questions when asking for feedback. Customers generally don't like long questionnaires and are likely to not respond to your request if you go too far.
There are also other ways to create buyer personas for your business, but they require deeper research and understanding.
5. Distribute your content evenly
You'd want to be highly visible so you can spread brand awareness through inbound marketing. This means getting the word out through your content and posting it on various social media platforms and through search engine optimization. Be consistent with posting, as this can help people better recognize your brand by anticipating your posts.
In addition, you should also strive to engage with your readers and respond to their comments and suggestions. Always pay attention to any mention of your brand and see how people interact with it.
6. contact bloggers and influencers
Successful influencers and content creators usually have a lot of followers, which means it's always good to reach out to some of them for a collaboration. You can run an online contest that your target audience can participate in, as this will help you increase your followers and, of course, your brand awareness.
Communicate with an influencer in your industry and ask if they would be willing to represent your brand. Here's how to reach the right bloggers:
Familiarize yourself with their publications and what they promote online. That way, you can talk to them comfortably once you contact them.
Recommend their work and tell them you appreciate their work. This will make it easier for you to present what you have in mind.
Highlight what you'll offer in return. Influencers are always looking for something they can leverage, especially from a brand they work with.
Be direct and tell them what you expect from them and how the implementation will be. Avoid long and boring messages.
Always be respectful and follow up if you have received a response within a week.
7. Be active in your community
The best way to build awareness of your brand within your local community is to reach out to the people around you. Sponsor local events, host an event and get involved with your local establishments.
Not only will the community become aware of your brand, but they will see it in a positive light because of all the good work you have done.
8. Deliver targeted paid ads
Most B2B companies use LinkedIn to run advertising campaigns to build brand awareness. Paid ads can help you reach your target audience much better since you can specify your demographics and interests Vital information such as age, gender, location, interests/hobbies and buying behavior can be specified so that ads are presented to this group of people.
In addition, you can also use Facebook, Instagram, Twitter, YouTube and other platforms if you think they will be useful for your brand.
Social media ads give you the advantage of controlling your budget, allowing you to determine how much you want to spend on each ad. Messaging and tracking your audience is also made easier, thanks to the useful analytics tools offered by these platforms.
9. Host or participate in podcasts
You can host your own podcast, or if you want to reach a larger market right away, then consider being a guest on a show that talks about your brand and industry. You also need to make sure you can talk about your brand, its context, and what you can do for your customers.
Podcasts are a great inbound marketing strategy that can help you reach a wide audience and build awareness of your brand.
Conclusion
The way to create an effective brand awareness strategy is to distribute useful content at the right time to the right people. Consistency is also key, as it will help your audience remember your brand, whether consciously or subconsciously. It will also help attract more visitors to the website and convert them into potential leads and loyal consumers.